Looking for Swiss Chard Substitute? You are in the right place !!
You will surely find your desired information in the article… So let's get started !!
Swiss chard has used in cooking for many centuries. This leafy vegetable is delicious and beneficial.
Although Swiss chard spinach is not related, they are quite similar. Different type of chard has different color stems. And their taste is slightly different too.
It is prevalent because of its nutritional value. Swiss chard also has some substitutes.
What is Swiss Chard?
Swiss Chard is a dark green leafy vegetable. It is very beautiful looking. The stems of swiss chard come in a different color. They come in yellow, red, orange and cream.
Swiss chard is one of the most attractive vegetables out there. The leaf of swiss chard is huge and crispy. Also, they are very vibrant. It loaded with antioxidants. And this also promotes lung health.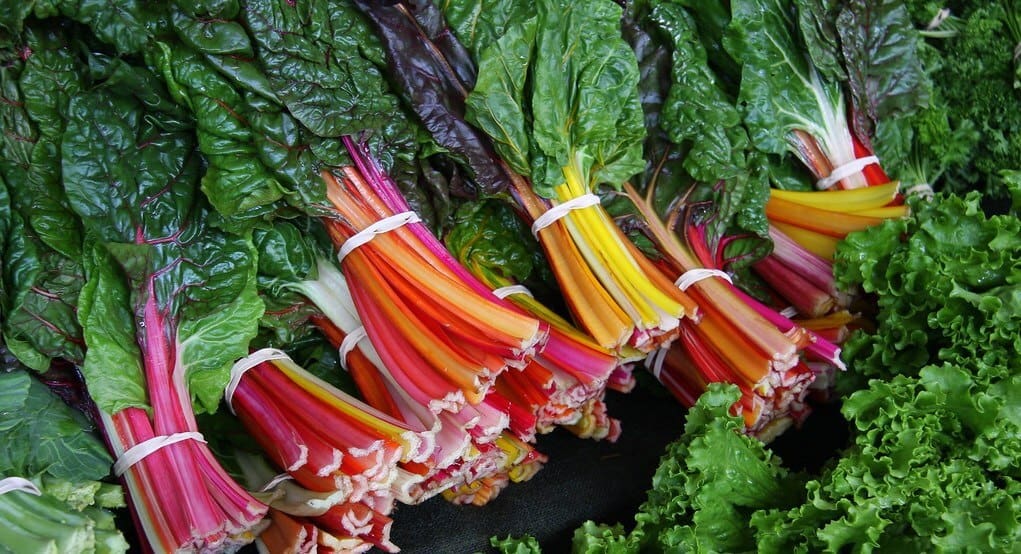 What does Swiss Chard taste like?
Swiss chard leaves are very tender and taste like Spinach. The leaves taste very fresh and sometimes slightly bitter. The stems of swiss chard are very crunchy. They are more flavorful than the leaves. The stems somewhat taste like celery. Swiss chard stems taste a little bit sweet.
How to eat Swiss Chard? Can you eat Swiss chard raw?
Swiss chard can be eaten in many ways. You can either eat them raw or cook them in different ways. There is various type of dishes made from swiss chard.
Yes, you can eat raw swiss chard. Raw Swiss chard is less bitter than cooked. Raw leaves taste like Spinach, and the stems taste like celery.
Swiss Chard Nutrition and Benefits
Swiss chard is a very nutritious vegetable. It provides vitamins, minerals, and powerful plant compounds.
1 cup of cooked Swiss chard contains:
Calories: 35
Protein: 3.3 grams
Carbs: 7 grams.
Fiber: 3.7 grams
Vitamin A: 214%
Vitamin C: 53%
Vitamin K: 716%
Calcium: 10%
Copper: 14%
Magnesium: 38%
Iron: 22%
Potassium:27%
Swiss Chard is a very beneficial vegetable.
Packed with Disease-Fighting Antioxidants.
Helps to prevent heart disease
May prevent lung cancer
Helps to maintain cholesterol level
Stabilizes blood sugar levels
Source of Vitamin K
Promotes weight loss
Best 6 Swiss chard substitute
There are many vegetables which you can use instead of swiss chard. Some of the substitutes mentioned below:
Dark leafy greens: Dark leafy greens are an excellent source of iron and vitamins. They have big crisp leaves like Swiss chard. These greens taste very similar to swiss chard after cooked.
Beet Greens: Beet greens are very popular because of their flavor. They taste like both beets and kale together. Beet greens play as an amazing substitute for Swiss chard.
Collard greens: Collard greens are a staple of Southern American cooking. They can be eaten raw like swiss chard. Both of these vegetable's taste is pretty similar. Collard greens are a fantastic substitute for Swiss chard.
Mature Spinach: Mature Spinach is bigger than regular Spinach. They have big leaves. Their leaves are bright green and crisp, just like Swiss chard. Both of these have some kind of taste. That is why they are considered a decent substitute for Swiss chard.
Mustard greens: Mustard greens are known because of their strong peppery taste. They come to different colors just like Swiss chard.
Spinach: It is the top substitute of Swiss chard. It has long green leaves like swiss chard. Also, they taste and look quite the same.
Why substitute for swiss chard?
Swiss chard is considered a superfood. But sometimes It may not be found. You can not find swiss chard in many countries. That's when you can use substitutions of swiss chard.
How to harvest Swiss chard?
Harvesting Swiss chard is very easy. Sow your seed of swiss chard on an open and sunny space. Try to grow them on soil that is moist and fertile.
A week before sowing the seeds, mix some fertilizers with the soil. Try sowing the seeds anytime between spring and late summer.
If the soil is dry, moist it with some water first. Then sow the seeds about 1 inch apart from each. Try to water them frequently for healthy growth. Start harvesting the chards as soon as they reach a usable size. Pick ½ leaves from a plant. It allows them to grow new leaves.
Swiss chard is one of the easy plants to harvest, and it doesn't take much hard work too.
Swiss chard vs. Spinach
Both Swiss chard and Spinach are similar in look. They also taste quite the same. Both of them grow from seeds. And they favor the same growing conditions. Nutritionally, they have similarities too. Both of these loaded with antioxidants, vitamins, minerals, and irons. Both of them are each other's substitute. Swiss chard and Spinach are both t different plans. But they have so many similarities that it is hard to differentiate them from each other.
Best Swiss chard recipes
There are tons of dishes you can make from swiss chard. It is very tasty and flavorful. Some of the best Swiss chard recipes given below:
Sauteed Swiss chard: Everyone loves sauteed Swiss chard because of its flavorful taste. Saute some Swiss chard in olive oil and garlic with a little hint of salt. And enjoy this delicious dish.
Swiss chard pasta: Who doesn't like pasta! Pasta is simple to make and tastes heavenly. It tastes even better when Swiss chard mixed with it. Throw some Swiss chard on your pasta to make it even more flavorful.
Creamed Swiss chard: Creamed Swiss chard is one of those dishes that can make your meal fancy. This dish tastes very creamy and flavorful. Creamed Swiss chard is even better if you sprinkle some bacon on top.
Swiss chard lentil curry: Swiss chard lentil curry is one of the popular dishes. This dish has a rich flavor of spices and chard. The sight of this dish is enough to make your mouth water.
Swiss chard rolls: Swiss chard rolls are considered amazing because of their versatile way of cooking. You can use different kinds of filling for these rolls. They are not very complicated to make. And also they taste amazing.
Rainbow chard salad: Rainbow chard salad is a very beautiful dish. Swiss chard has different colors of stems. They taste quite different from each other too. These stems can be used in making a Rainbow chard salad. This salad is more flavorful and pretty than other ones.
Swiss chard banana smoothie: All love smoothies. But not all smoothies are healthy as well as tasty. Swiss chard banana smoothie is both healthy and delicious. This smoothie is loaded with vitamins and is good for our bodies.
Swiss chard is a nutritious vegetable. It is also very beautiful looking. That is why it is considered a superfood.
Swiss chard is quite easy to grow. There are a lot of health benefits of swiss chard. Missing this on your regular diet is a waste. That's why we should eat swiss chard very frequently.
FAQ :"Swiss chard substituted "
u003cstrongu003eWhat is similar to Swiss chard?u003c/strongu003e
Spinach is similar to Swiss chard.
u003cstrongu003eWhat is the Swiss chard called in Australiau003c/strongu003e?
Swiss chard is called u003cemu003eSilverbeet u003c/emu003ein Australia.
u003cstrongu003eIs Swiss chard and Silverbeet the same?u003c/strongu003e
Yes, Swiss chard and Silverbeet are the same.
u003cstrongu003eCan Swiss chard be substituted for collard greens?u003c/strongu003e
Swiss chard can be substituted for collard greens.