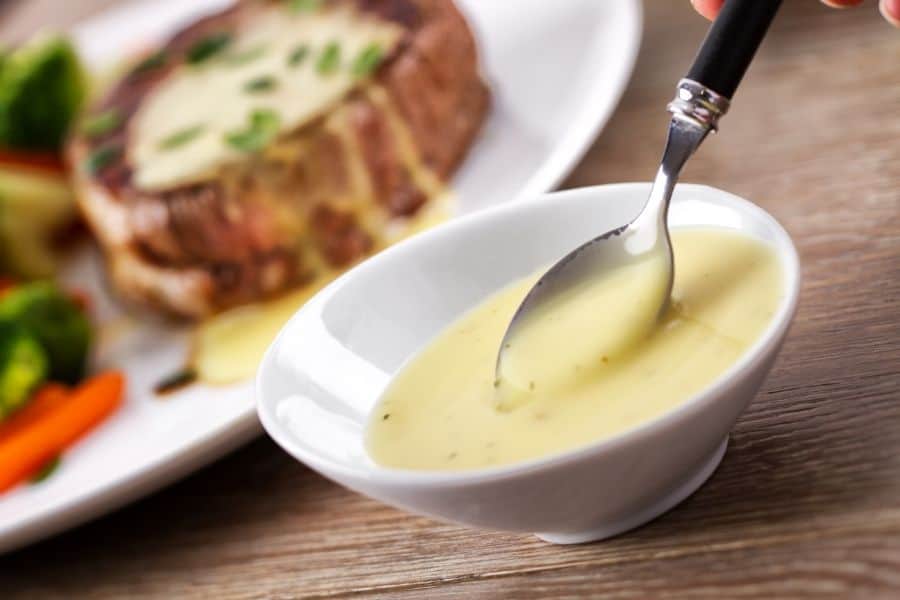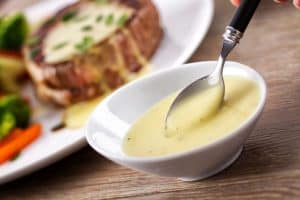 Do you know the 'child sauce' of French Hollandaise sauce? It is none other than the super delicious Bearnaise sauce. First invented in 1836, dishes paired with Bearnaise sauce have been popular ever since. If you love to eat steak, you must have had Bearnaise sauce with your dish at least once. If you can't recall eating this scrumptious sauce with your dish, trust me, you're missing out a lot! So what does Bearnaise sauce taste like? Does it taste like Hollandaise sauce? Let's take a look at its flavor profile, shall we?
What does Bearnaise Sauce taste like?
Béarnaise, the derivative of Hollandaise sauce has a very unique savory taste and its own purposes. Generally, Bearnaise sauce has a stronger licorice-like flavor that comes directly from tarragon vinegar. However, if fresh tarragon is used, you may not find the sauce too strong. You can taste a certain level of acidity in this sauce that is imported from white wine vinegar.
Besides that, you can also taste the shallot, peppercorns, chervil, a bunch of different herbs, salt, pepper, and tarragon in a reduction of wine and vinegar. So clearly, this opaque, smooth, and creamy sauce has tons of flavors infused in it You can see the flecks of green herbs mixed in this pale yellow sauce. Because no big chunks of ingredients are added to this sauce, Bearnaise has a divine texture and consistency that naturally makes it very appetizing.
Despite being a derivative of Hollandaise, Bearnaise sauce has its own spark that brings the A-game to your dishes. If the sauce is properly made, you cannot taste any egg yolk or clarified butter that has been used for the base of this sauce. The herbs and additions wholly change the sauce into something so majestic. You can wholeheartedly enjoy the sauce with relish, which I know for sure.
How do you describe Bearnaise sauce?
To me, Bearnaise is possibly the tastiest steak sauce out there. The perfect balance of creamy, thick consistency and richness of flavor is out of the world! You can taste the savory acidity, slight spiciness, and sweetness from the flavor contributors. These additional ingredients make Bearnaise sauce much more flavorful than 'rich yet bland' Hollandaise sauce. Bearnaise sauce is comparatively more fragrant with a savory twist in it. Despite adding butter and egg yolks, it doesn't taste fatty or oily which makes it even more perfect. You can use it on multiple dishes and cannot get tired of its superior deliciousness.
Is Bearnaise sauce like mayonnaise?
After knowing the ingredients of Bearnaise sauce, do you think it can taste like mayonnaise? The answer is, NO. There is no similarity in terms of taste and consistency between Bearnaise and mayonnaise. However, there are a few common ingredients between these two.
Bearnaise has a runny consistency, that makes it easier to put on the food. Mayonnaise is much thicker and dense, so, you cannot put it on a dish (i.e- steak, fish, or fried egg) like Bearnaise sauce. Now let's talk about the taste differences. We all know what plain mayo tastes like unless some spices are added for boosting the flavor. Bearnaise is packed with various ingredients that give it an amazing savory flavor.
Many of us have made mayonnaise at home, and you know the drill! It is mainly egg yolks plus oil. It can be olive oil, soybean oil, or sunflower oil. To make Béarnaise sauce the recipe is egg yolks plus clarified (unsalted, non-sweet) butter. This is just the base of this sauce. Let's not forget the additives that elevate the beauty of Béarnaise to spice up your food. So as you can see, there are certainly some unavoidable differences between Bearnaise and mayonnaise.
What is Béarnaise sauce used for?
Did you know you can use Bearnaise sauce in various dishes? Well, typically Bearnaise sauce is served with grilled fish and meat. I personally love to consume this sauce with a perfectly grilled or charred steak. Just one or two spoons of this unworldly sauce really works like a magic and make the dish much more mouth-watering than it already is.
The first time I tried this sauce was when I met a friend in New York and we order some salmon steaks. And boy! Was that a dreamy meal! Just a small spoon of this Bearnaise sauce on top of the salmon steak transformed the entire taste of that dish. For those who are not the biggest fan of salmon or any other fish, this sauce can really make you think about your food preferences.
You can also put the Bearnaise sauce on some eggs (omelet or Egg Benedict) and sandwiches for some touch of fanciness. Don't hesitate to drizzle this sauce over your favorite salads or veggies, like green bea犀利士 ns, asparagus, or Brussel sprouts. Another perfect pair is french fries and Bearnaise sauce. I have two words— Life Changing! Once you can understand the depth and richness of this sauce, you will want it on everything! No kidding!
Conclusion
So are you interested to taste the authentic French bistro? Bearnaise sauce is a great place to start. Pair it with your meat or fish steak and see the magic! The flawlessly rich, thick, and creamy texture and a burst of distinctive flavors in your mouth are truly something you shouldn't miss. As they say, you only live once. So make it yourself at home or try this deliciousness at a restaurant, that's up to you. Just enjoy the flavorsome French cuisine sauce and have a happy meal. Bon Appetit!