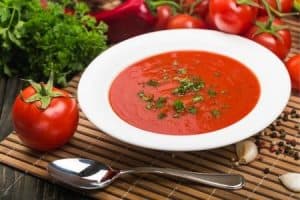 Is it cold and rainy outside? I have just the thing to warm up your soul— a bowl of freshly cooked tomato soup. Whenever I think of tomato soup, it reminds me of my childhood. When I used to get sick and my mum would feed me a bowl of heart-warming tomato soup. The taste, texture, and warmth were divine and extremely therapeutic. You can find different kinds of tomato soup in the market. But it is always pleasing to eat the gourmet ones. So when do you like to eat tomato soup? What does it taste like to be exact? Let's have an in-depth discussion on that, shall we?
What does Tomato Soup taste like?
What is your standard taste for tomato soup? Based on the cooking methods and ingredients it differs a lot. But in general, tomato soup is loaded with flavors. You can taste the onion and tomato puree mostly that has a savory, salty, and acidic taste with a balanced hint of sweetness to reduce the tanginess and sourness of the tomatoes. Instead of sugar for the sweet taste, some lemons and herbs can also be added for balancing out the taste of tomato soup.
One of the biggest important factors that determine what your tomato soup is going to taste is the type of tomatoes you use to cook the dish. If the tomatoes are already a bit sweet, you can clearly taste the sweetness in your soup. If the tomatoes are a bit sour, you can taste that as well, unless you do something to stabilize the taste. That's why balancing this dish with pepper, salt, acid, and spices are needed. Otherwise, the sweetness/sourness can be very noticeable.
The taste of a perfectly cooked tomato soup largely depends on what are the other ingredients added in there. Some tend to use flavorful olive oil before throwing in the spices. This elevates the taste tremendously! Adding basil leaves, garlic, balsamic vinegar and a bit of spring onion give a nice twist to its flavor. You can taste a lot of things while still tasting tomatoes as the dominating ingredients. It's a beautiful dance of all flavorful ingredients that will put a smile on your face.
Did you know you can even throw in some small chicken pieces or thinly sliced mushrooms in your tomato soup? That would make the soup pretty Thai style, but boy, are they delicious! Some people prefer adding cream, some do not. the strong scent of tomatoes gets reduced when the cream is added, and it tastes just as good. If you are going to taste tomato soup for the first time, eat the no-cream regular version first and see if you love the taste.
As for texture, tomato soup needs to have a perfectly smooth consistency with just the right level of thickness. The soup shouldn't be too runny/watery or too thick to even swallow. Except for the veggies and chicken pieces (if you add any), everything should be blended in properly so that there are no chunky pieces. When you take a spoonful of soup in your mouth, it should feel buttery with a smooth velvety finish, and of course, lump-free in your mouth. A bowl of tomato soup should be your tasty comfort food, not something that is a hassle to eat.
Why is tomato soup so good?
Soups are best when you just want to chill in your pajamas after a long tiresome day, or when you're a bit under the weather. Not only this dish is super delectable but also rich in nutritional value. This may sound a bit dramatic, but when you first take some tomato soup in your mouth on a chilly day, it warms up your inside immediately. It feels like a warm snuggle love that you were longing for.
But why is this dish so good for your health? Tomato soup is an amazing source of antioxidants. This includes the flavonoids, lycopene, vitamins B, C and E. Let's not forget the potassium and selenium that comes directly from the tomatoes. Consuming tomato soup lowers the risk of cancer, prevents anemia, and improves blood circulation which is excellent to prevent heart diseases and further prevents inflammation-related diseases.
Does tomato soup taste like tomato sauces?
There are quite a lot of differences between the taste of tomato soup and tomato sauce. Indeed, tomato sauce is much thicker (in terms of viscosity) than tomato soup. Based on the recipe, the sauce may either contain a lot of sugar or a lot of spice. You cannot just eat the sauce with a spoon.
To cook tomato sauce, tomato paste (sometimes cornflour) is added to thicken it. You can tell the difference between tomato paste and freshly crush tomatoes significantly. Even if you dilute the tomato paste to the sauce consistency, the prolonged cooking method alters the flavor. This is why if you use tomato sauce to cook some soup instead of fresh tomatoes, the taste will be quite ketchup-y, simply 'cause it's a condiment.
What to eat with tomato soup?
Tomato soup is mostly popular as a stand-alone dish. However, it is often served with toasted sandwiches or grilled cheese sandwiches. I personally love to eat mine with some toasted garlic croutons. You can also add your favorite veggies, shredded cheese, pasta, poached eggs, or hot sauce to enhance the flavor even more.
Conclusion
Tomato soup can be a lovely dish when you're looking for the most perfect comfort food. Whether you order it or cook it yourself, tomato soup can really brighten up your mood and make you happy. The smooth blend of savory, salty, spicy, and sweet is just the thing you need if you're craving some delicious soup. So are you ready for some fresh summer in your mouth? After you have some tasty tomato soup, don't forget to let me know whether you loved eating it or not. Until then, good luck and Bon Appetit!