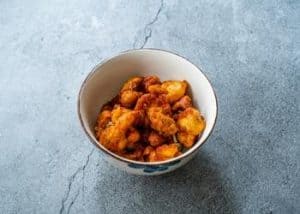 Are you in the mood for some exotic and flavorful chicken dish? You have come to the right place 'cause today we are going to talk about Mongolian chicken and what it tastes like. In general, we see that Mongolian beef is the most common and popular dish on a Chinese restaurant's menu. I always love to stay on the safe side and so my go-to is the Mongolian beef, until last night when I finally had the courage to order me some Mongolian Chicken, and boy, (long pause) am I hooked! So today, I have decided why don't I describe what Mongolian chicken taste like. Okay, here we go.
What does Mongolian chicken taste like?
Imagine sweet and sour chicken. Now, subtract the tangy and sour taste from that. There you go, that's what Mongolian chicken tastes like. You can taste a great note of garlic in Mongolian chicken. The hotness and spiciness of the red chili and the sweetness from the brown sugar make this dish as extraordinary as you imagine it to be.
One of the top ingredients for this dish is hoisin sauce which is known for being salty and slightly sweet. It almost tastes like barbecue sauce but much richer, saltier, and interestingly less sweet. That's why adding a bit of brown sugar doesn't make it excessively sweet. Since there is no tanginess to this dish, you can taste the brown sugar and garlic-infused hoisin sauce that has just the right level of spicy kick from the red chili.
So, what is Mongolian chicken? What's so special about this dish? The first thing you notice when eating Mongolian chicken is the texture of the boneless chicken pieces. After they are coated with cornstarch, salt, and pepper they are stir-fried over high heat. Then all the flavor-enhancing ingredients like red chili, ginger, garlic, dark sesame oil (or peanut oil), and soy sauce are added. The bold flavor comes from the combination of Hoisin sauce and brown sugar that you're going to love, no doubt!
If you're not allergic to nuts, you can throw in your favorite nut of choice. This will give the dish a nutty flavor that will make you like the dish even more. The food is already a bomb of flavor, you should keep the sides simple. Personally, I love to eat it with plain steamed rice. But are you watching your carbs at this moment? Then you can pair this dish with cauliflower rice or zucchini noodles. For those who don't mind some carbs, chow mein is also great to enjoy every drop of Mongolian Chicken.
Is Mongolian chicken spicy?
Since the recipe includes Red chili, the dish is pretty spicy, but it is balanced by the hoisin sauce and brown sugar. Don't worry the spice is not going to numb your mouth, nor it is going to give you a flaming hot sensation in your mouth. The spiciness of Mongolian chicken can only be felt on the back of the tongue. I assure you, this chicken dish is not overly spicy that you need to chug a tall glass of cold milk to calm down the flaming spiciness. If you love a combination of sweet and spice, this dish is going to be nice (yes, intentionally rhymed). And, of course, if spicy food is not your cup of tea, you can customize and omit the red chili.
Is Mongolian chicken healthy?
Who knew that something this flavorsome can be so nutritious! Yes, still talking about the Mongolian chicken! The dish is packed with all the health-beneficial elements. If each serving of this dish contains 140gram of chicken, you will get 452kcal of Calories, 46g of Carbohydrates, 32g of Protein, and 15g of Fat. Other nutritional values of Mongolian chicken are— 90mg Cholesterol, 652mg Potassium, 9g Saturated Fat, 27g Sugar, 739mg Sodium, 44mg Calcium, and 1.6mg Iron. There are some vitamins in there too! You can get 165IU  Vitamin A and 4mgVitamin C on one serving of this dish. Based on how much sugar, salt, and sauce are used, the numbers will vary. This is simply just an estimation, not precise.
Mongolian chicken vs Szechuan chicken
You can't mistake Mongolian chicken with Szechuan chicken. These two dishes have significant differences. When you have eaten Mongolian chicken and Szechuan chicken, you can clearly tell they are both Chinese dishes, but the flavors are completely different. The top note for Mongolian Chicken is its spicy and sweet flavor while Szechuan chicken has a dominating hot and spicy (sometimes sour) flavor and almost no sweetness.
Another mentionable difference is the kind of ingredients used to cook the dishes. Szechuan chicken relies on salted, pickled, and dried ingredients whereas Mongolian chicken is made with fresh ingredients such as scallions green, or onions.
When Szechuan chicken is cooked the primary focus is on making the dish hot and spicy. The core is the sauce that gives the dish its unique taste. As for Mongolian chicken, the primary focus is placed on meat and veggies. The main thing you need to keep an eye on is the way the meat is stir-fried. You don't need to worry about the sauce too much if the texture of the meat has achieved perfection.
Conclusion
Did you just order your very first Mongolian chicken? Now just break apart your chopsticks and enjoy the taste of this lovely Chinese dish. Once you open the box, I don't think you can stop yourself from eating the entire thing by yourself. From one Chinese food enthusiast to another, I assure you will instantly fall in love with the taste of Mongolian chicken. So let me know how your meal went. Till then, see ya and Bon Appetit!