We all love pizzas. Don't we?
The look of that smoke coming out of a pizza is heavenly. Just a glimpse of the pizza can make our mouth watered. Though, many may like cold pizzas.
Most of us love it served hot. Not just hot pizza has its temperature. And it makes a massive difference while serving. So, what are the right ways to do it? Well, thanks for asking.
Today I will be talking about how to keep pizza warm.
Warming a pizza can be a bit delicate. Overheating, it will make it dry. Just keeping it in the box will make it soggy. We want to avoid both. Though there are many methods out there, I'm going to share some of mine.
Top 5 Ways: How To Keep Pizza Warm?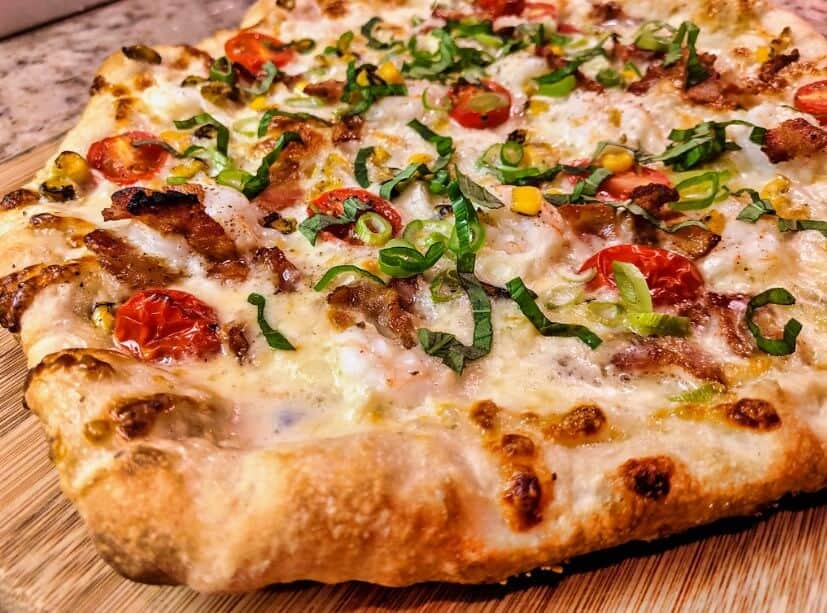 1. The Oven Method: With The Cardboard Box
If you just received the pizza and want it for later. You can keep it warm without even opening the box. We do this by creating an atmosphere inside the box.
Steps
Preheat your oven to the lowest temperature. It may be around 170 to 200 °F.
You must keep the steam flaps open. It will prevent the crust from getting chewy.
Place the pizza box inside the oven.
This method prevents the pizza from getting overcooked. It also prevents it from becoming soggy. You can easily use it for a couple of hours. Besides, cardboard boxes can leave some smell as there is a thin layer of chemicals that get burnt. Still, if you don't have a stone, this can be your best choice.
2. The Oven Method: With A Pizza Stone
If you are a pizza lover, a pizza stone can be a good investment. For me, it's the best way out there.
Steps
Place the pizza stone inside the oven.
Turn the oven to 200°F. And leave the stone for 30-40 minutes.
You've to make it hot enough to preserve the heat so that it can circulate when the pizza is on top.
Now place your pizza on it and turn off the heat.
Stones made of pores. These pores can circulate constant heat. They have no residual smell too. They don't let the pizza go soggy. It protects the crust from With this method; the pizza will stay perfect.
3. The Oven Method: With Aluminum Foil
This method is for those who want their pizza a bit crispy. You can easily keep your pizza warm for 3 hours or more with this method.
Steps
Wrap your pizza slices with aluminum foil. You can even use cold slices too
Turn the oven into 400 °F. Beware not to exceed 400 °F. As it may burn your pizza
Keep distance within the slices so that the steam can pass
Bake it for 10 to 12 minutes. Wait till the cheese starts to bubble
You can combine this method with the stone method. That works like a charm too. It suits best for pizzas with a thin crust. But this method has a downside also. It can make your pizza dry.
4. The Skillet Or Frying Pan Method
Yes, you can also keep your pizza warm with your skillet. You can also use a nonstick pan. If you need to work with a lot of pizzas. And your oven's lacking space. Or maybe you don't have an oven. You can try this method too. This works like a charm if done right.
Steps
Place the pizza in the pan. Place the pan in a stove with high heat.
Heat it for 2 to 3 minutes. Your goal is to keep the bottom crispy. But avoid it from getting burnt
Now change the stove to medium heat. Wait until the sauce gets warm, and cheese melts.
If you're having trouble melting the cheese, you can put on a lid too. In that case, try to keep the head withing medium to low.
This is a great method for heating without an oven. Though in the first case, you may burn the pizza. You need a bit of practice to master it. And you've to be a bit delicate.
5. The Microwave Method
Though, it does not sound that much of a good idea. Yes, you can use radiation to get the job done. You can keep your pizza warm with your microwave. Even you can reheat your old pizzas with this method. Without no further ado, let us move on to the steps
Steps
Take a big microwave-proof dish for your pizza.
Put the slices on the dish. Remember to keep space in between. Don't make them too close.
Fill a mug with some water. Place the mug nearby the dish or down the plate. The water will evaporate. Thus the crust remains moist.
Set the power to 50 to 60 percent.
Heat in 40 to 50 s intervals. Thus you'll have more control over the process.
This method will not give the best results. But for a quick fix, you can use this.
These are some methods that I use to keep my pizza warm. Before ending, there are some precautions. Cardboards made with plastic, paper, and chemicals.
These materials can catch fire quite fast. So, this method should never use to reheat a pizza.
These boxes do not catch fire up to 450 °F. But to be on the safe side never go beyond 400 °F. That's all for today. I hope you'll try these methods and also learn how to keep pizza warm in oven.